Welcome to Munich
Munich is the capital of Bavaria and site of seventh international and interdisciplinary symposium Art in Motion. The flair of this city combines state-of-the-art science and research with a large wealth of art and music and Munich's famous relaxed atmosphere ("Gemütlichkeit").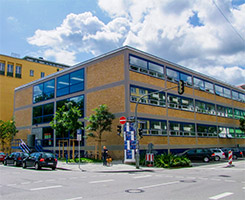 Our location is in the heart of the Maxvorstadt district, directly adjacent to the Königsplatz. Situated here are two of the buildings of the University of Music and Performing Arts Munich, direct in the middle of the cultural quarter of the city that encompasses the two Pinokotheken art museums.

Art in Motion
In 2021, Rhythm! was the topic of the biannual international symposium Art in Motion. Previously, Art in Motion was held in 2008, 2010, 2012, 2014, 2016, and 2018 with the themes: "Musical and Athletic Motor Learning and Performance," "Memory, Expertise & Motor Planning," "Motor Skills, Motivation & Musical Practice," "Performing Under Pressure," "Training for Excellence," and "Training for Creative Excellence."
University of Music and Performing Arts Munich
The University of Music and Performing Arts Munich (Hochschule für Musik und Theater München) belongs to the most prestigious institutions for education in music and theatre in Germany. As well as training in performing and teaching in all music subjects and ballet, the University of Music and Performing Arts also offers joint courses with the Bayerische Theaterakademie August Everding covering operatic performance, acting, directing, musicals, make-up for the theatre and lighting design. The University of Music and Theater features about 750 concerts and other stage performances yearly in the buildings at Arcisstraße, Luisenstraße 37a, Gasteig, Prinzregententheater and at other performing venues in Munich and thus belongs to the biggest concert promoters in Munich.